This post is available in: English Español (Spanish) Português (Portuguese (Brazil)), there may also be a subsite in your language, see "Subsites" in the top menu.
Created 11/5/20. Acknowledgements: this has been made possible by UDLA (La Universidad de Las Américas) in Quito, Ecuador who kindly enabled me to use Microsoft forms; Marco Branco of Family Psychology Mutual who created early forms and made them available to others; and to Dr. Clara Paz and Victor Montenegro who did most of the work to create these forms. Updated 30/6/20 with the bug report below.
Stop press news! Occasional problem with M$ forms data storage
Thanks to Greta Steponaityte of the Brent Centre for alerting me to this. Apparently, for reasons still unclear to M$, M$ forms sometimes reorders the items in the output, i.e. the data fed back to you from clients. It looks as if this is fairly easily solved as long as you know it may happen, the M$ bug report and howto is at https://docs.microsoft.com/en-us/office/troubleshoot/microsoft-forms/forms-response-columns-out-of-order.
Background
Perhaps a bit reluctantly, I am making CORE measures in English and Spanish available using Microsoft forms as, for those who can use them, I believe they are much more confidential than fillable PDFs. After seven weeks now making fillable PDFs available and over 1,400 of them downloaded (see log for updates), I'm still unhappy that they're not very confidential and I see no way to fix that which would work for all but a tiny minority of clients. Sadly, I had to give up on using Google forms (it proved impossible to ensure confidentiality given some very odd decisions Google have made about the forms and the technophobia or frank reluctance to answer Emails of practitioners).
Licensing of Microsoft forms
Sadly Microsoft forms are only going to be usable for you if you, or an organisation for you, has the right Microsoft Office licence. I think, see https://docs.microsoft.com/en-us/forms-pro/purchase, that if you are an individual user of Microsoft Office you can buy the licence you need to use these forms but as far as I can see the minimum price is $100 per month and that covers you for up to 1,000 responses/completions with no roll over for unused completions. I guess that few individual practitioners will need that many nor want to afford $1,200 per year for forms. I guess an organisation or number of users could perhaps have one person handle their forms (up to that 1,000 per month). However, I do know that some schools in the UK, and some universities (neither of the ones where I have links) and perhaps some NHS Trusts do pay for the right Office licence. If so, you should be able to use these forms and it should be easy and, I believe, full confidential.
If you have the right licence … your next steps
If you click on the links for the forms you want they should open in a new page with a button saying "Duplicate". If you hit that you will be prompted to log in to your Office account in order to open them in your own Office forms directory. (If, like me, you have many Office accounts, personal, family, various work ones, make sure you use the one with the licence you need). You should then be able to start using them. You can see that there are two versions of each measure (in each language), the first version, "v1", allows the respondent to leave items unanswered, use that one if you usually allow that on paper, "v2" makes all the items compulsory so use that if that is your usual way of asking people to complete the measure.
You will probably want/need to tweak the form a bit
When you have got the measure(s) you want and opened them you can (I think) edit them. PLEASE don't edit any of the measure itself as that's copyright and altering it risks scores not being comparable with those you got from the paper version and with other peoples' scores. However, you are welcome to add text at the top clarifying that it's from you. At the bottom the version you see asks the respondent to put their Email (and makes this mandatory). You can change that but make sure you have some mandatory response there that will enable you to know who it is who is responding. You will get the date and time of the response in the automatic response returned to you so you don't need to add them.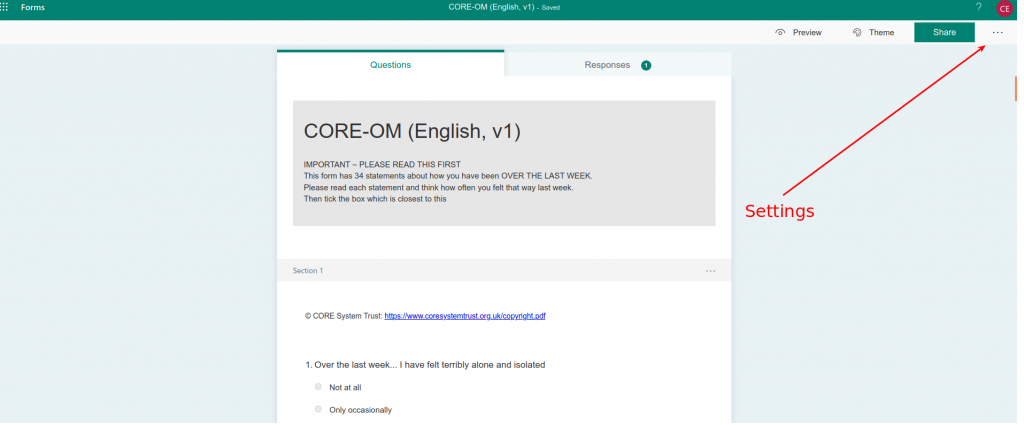 Sadly, some of the settings I would recommend only apply if you are restricting replies to "from members of your organisation". The two you might want to change are the one to customise the message to your clients and the one that will alert you with an Email if you have a response. See arrows on the screen grab below.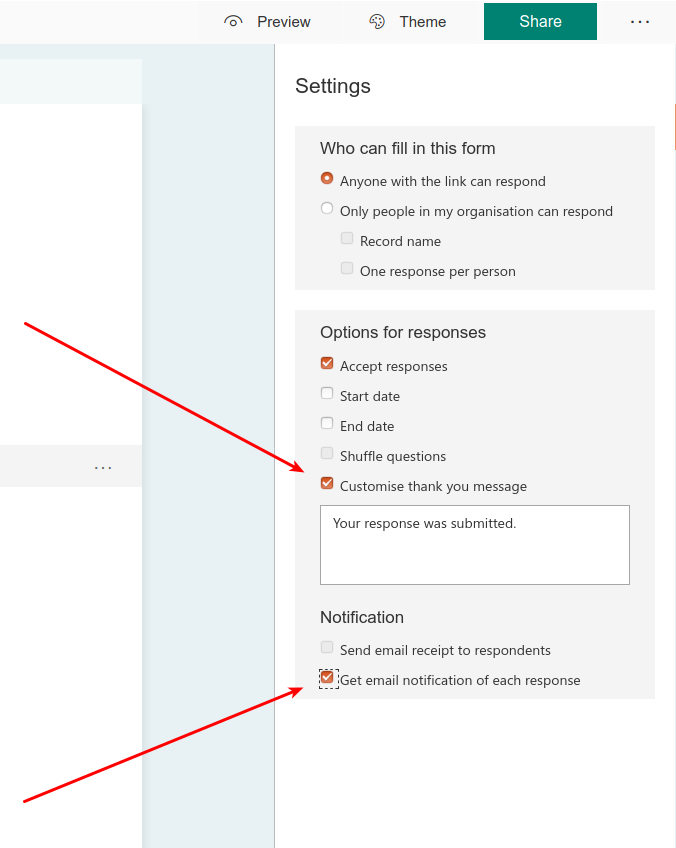 Sending the form out
Click on the "Share" button (not the verb I'd have chosen for some very different things but there you go).

Then you click on the Email button: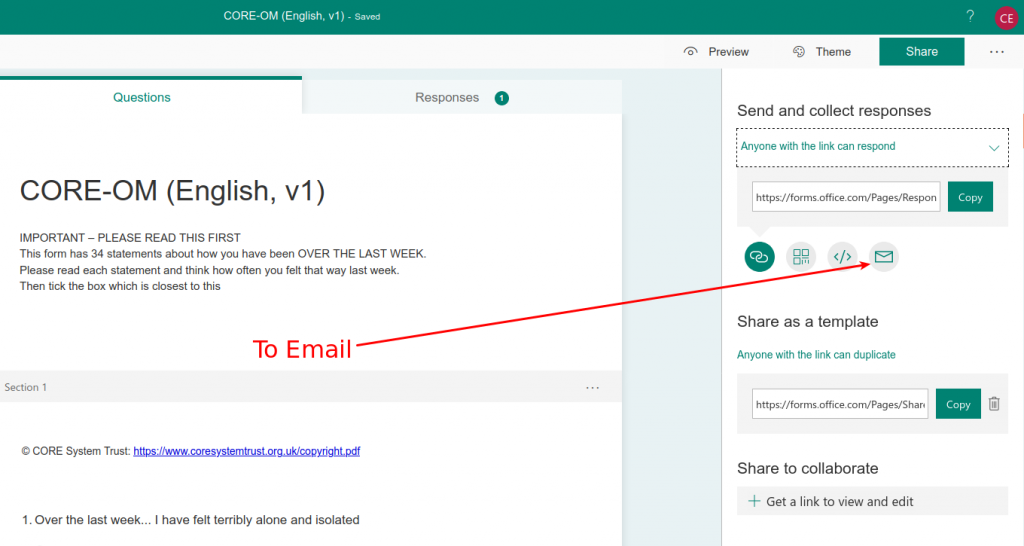 What happens next will depend radically on your web browsing and Emailing software but you should find that you have been offered a template new Email to send to your client. Here's what I see next.

Whatever system you have I think you will see a skeleton Email with the subject line and two lines already in the body of the Email. The crucial bit is that huge long link which is how your client responds: when they click on that the form will open for them to reply and when they press the "submit" button at the end their responses will be sent back to you (and an Email alerting you will come to you if have asked for that). I think you'll want to modify the text to be less formulaic Microsoft (and probably the subject line too). If there's a danger the client's Email may be read by someone else you'll probably have agreed that it the Email will have text that could be read as an invitation to participate in a research study. All you have to do then is to put the client's Email in the "To" field of the Email and send it.
Try it to yourself at least once first (obviously). The responses may take a few minutes to arrive and are in the same place as the form.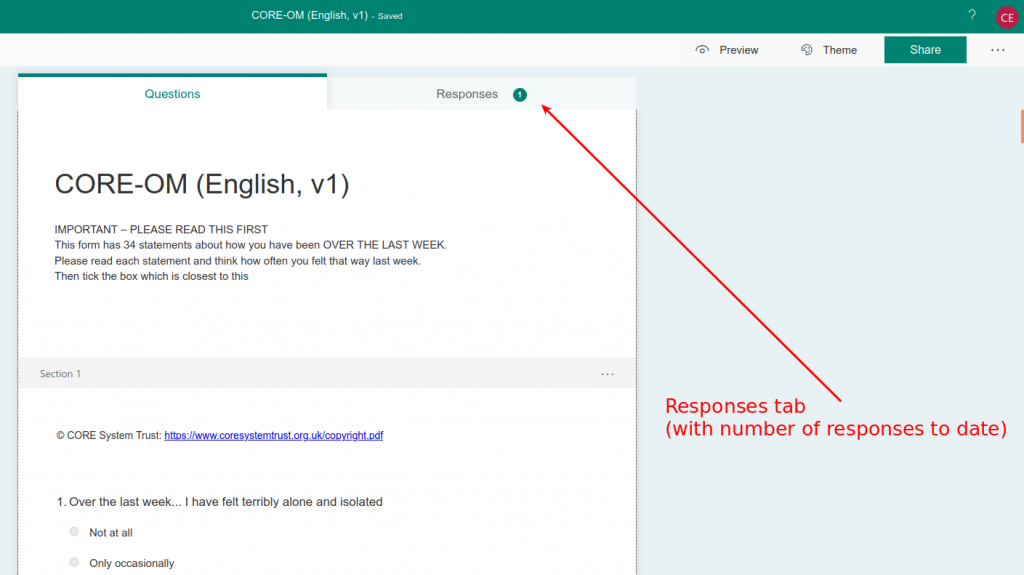 As soon as you have some responses back the tab will look (roughly) like this.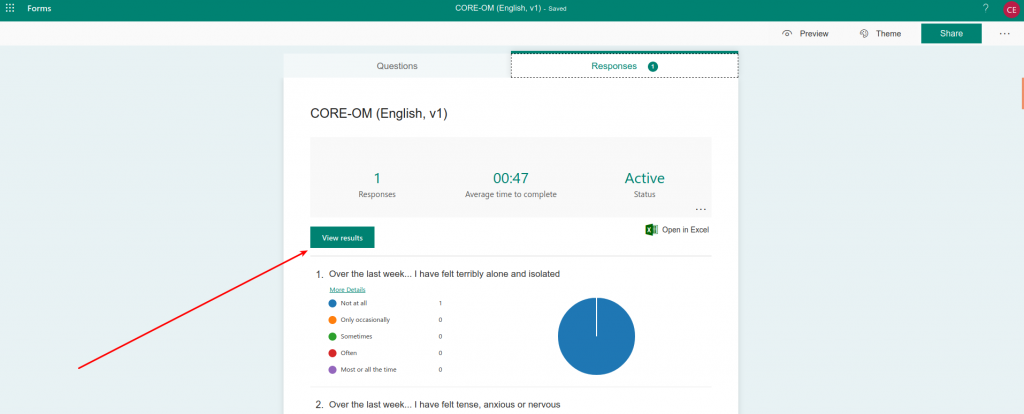 If you click on that "View results" button you get something more useful to you.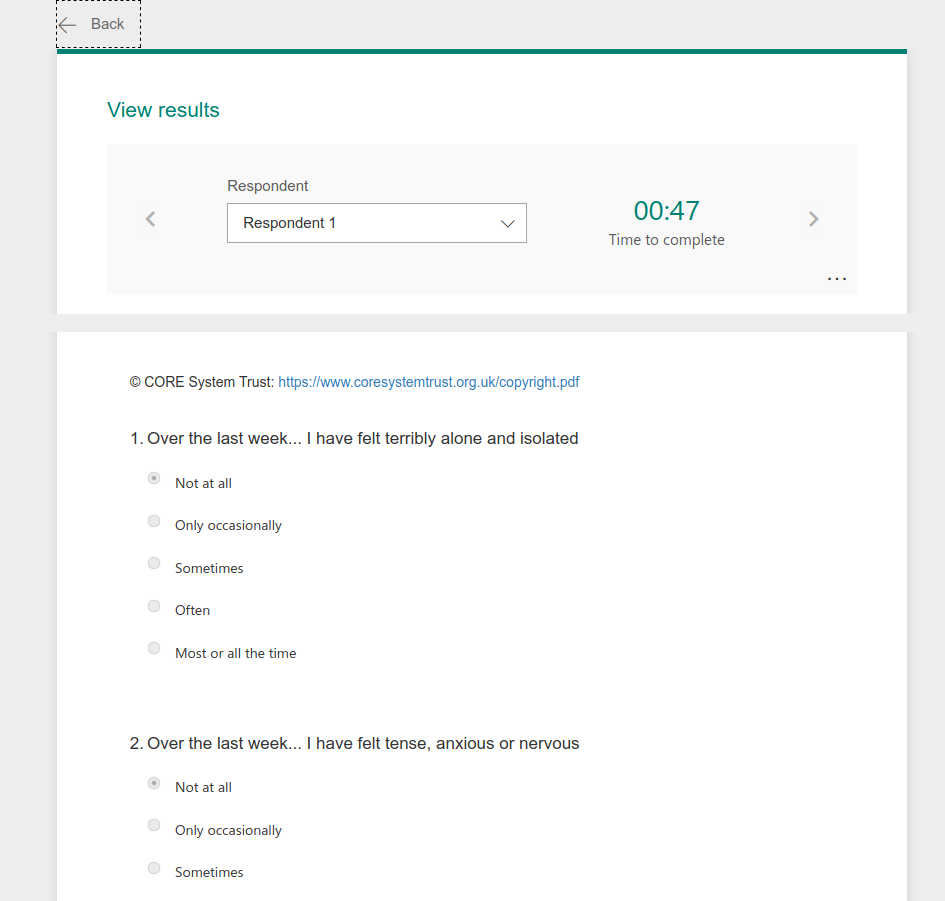 That shows an individual client's responses and you can use the pull down box to select the respondent (but only by response number). You would have to score that by hand (pencil on a paper copy may be the quickest and easiest way for the CORE-OM). Alternatively, if you go back to the responses tab you can see a button inviting you to export the response(s) to Excel.
That should offer to export an Excel xlsx file for you. I get this but your download options will almost certainly look different.
Download that somewhere safe (remember it will have your clients' Email addresses or other identifiers in it so be thoughtful). You can then analyse that and score it using Excel or any other spreadsheet software or statistical software. You can probably tweak the spreadsheets I wrote for data exported from Google forms to score this for you but they will need tweaking as the layout is a bit different and as you may have added some fields at the end of the questionnaire.
You can download the spreadsheets. I've made them up in Libre/OpenOffice ods format and (ugh) Excel!
Libre/OpenOffice ods files for the forms in English:
M$ Excel xlsx files, for the forms in English:
Libre/OpenOffice ods files for the forms in Spanish:
M$ Excel xlsx files, for the forms in Spanish:
Open the file and you should find the first tab/worksheet has the instructions (and legalistic cautions) and the second tab, marked "Data" is largely empty. Copy the data from your Excel responses spreadsheet, trying to select just the columns that fit in the Data worksheet, and paste it into the Data worksheet and the scores appear. If you're using the CORE-OM the domain scores appear. The recommended prorating of up to 10% missing items is used and the scores are the "clinical" scores, i.e. the mean item scores multiplied by 10.
That's it! If you have problems or questions do please contact me but I really can't promise to answer speedily if I get a large onslaught of requests or suggestions. However, I know that none of this is as user friendly as I would like so I will try to implement constructive suggestions and corrections as soon as I can!